Ptarmigan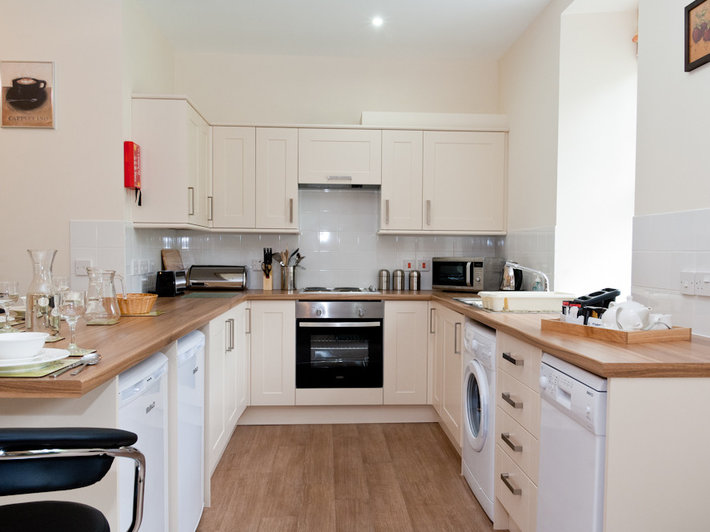 Special Offers / Late Deals
Please check our website for current offers and telephone for last minute short break availability outwith the normal Saturday - Saturday holidays
Description
Ptarmigan Apartment is a new ground floor three bedroomed apartment with a stunning open plan living /kitchen /breakfast bar dining area.There are two twin and one double(en suite,king size bed)bedrooms plus a large family bathroom with bath/shower above. Ptarmigan is situated on the ground floor of Achnacarry Steading Apartments,a 19th century converted farm steading which has recently been sympathetically converted to four individual and charming modern self catering apartments.The steading is situated in the heart of Achnacarry Estate which is home to the chief of the Clan Cameron, Donald Cameron of Lochiel who lives at nearby Achnacarry Castle.
The River Arkaig, a few hundred yards away runs from Loch Arkaig to Loch Lochy. With lochs,mountains,wildlife, wonderful walks and cycle tracks on the doorstep Achnacarry is an ideal retreat for an active outdoor or peaceful holiday and the apartments themselves are well appointed providing everything you need for a superb self catering break.
Achnacarry is also well placed as a base to tour and discover the west coast and the islands
Sleeping Arrangements
One double bedroom with 5' bed and en -suite shower room
Two twin bedrooms with full size single beds
Directions
By Car

From Fort William follow the A82 north into Spean Bridge. In this small village, immediately after crossing the River Spean, the A82 branches off to the left and rises steeply. Follow this route, still on the A82, until arriving at the Commando Memorial, above Spean Bridge.

At this point turn left ( turn right if coming off the A82 from Inverness) leaving the A82 and on to the B8004. This road leads to Mucomir and Gairlochy. Two miles along the waters of Loch Lochy flow through a scenic channel, cut when the Caledonian Canal was constructed.

Passing over the channel at Mucomir, proceed along the road until crossing the Caledonian Canal

After crossing the Caledonian Canal the road to Achnacarry forks to the right on to the B8005. A small sign at the fork directs visitors towards Loch Arkaig and the Clan Cameron Museum.

Within a mile or so a sign will be seen on the left: Achnacarry Steading Apartments.
Drive through the gates carrying on until you come to the Clan Cameron Museum. Carry on past the Museum and the Achnacarry Steading Apartments are ahead. Bearing left, parking is at the rear of the steading building.

By Train
There is a train station in Spean Bridge and car hire can be arranged in advance to be collected at the station. The London Euston to Fort William train ( sleeper) provides a direct route

By Air

Flights are available to and from Inverness Airport at Dalcross. Again car hire can be arranged taking the Road to Inverness and South to Fort William and turning right off the A82 on to the B004 to Achnacarry at the Commando monument and following on by road as before.
Capacity

6(+ 0)

Bedrooms

3

En-suite bedroom(s)

1

Bathroom(s)

1
Apartment Features
Dishwasher
Cot/ Travel cot
High chair
Tumble dryer
DVD player
Satellite TV
Freeview / Freesat TV
iPod docking station
Free Wifi
BBQ
Shared garden
Boat mooring
Garden dining furniture
Personal meet & greet available
All facilities
Dishwasher , Fridge , Oven , Microwave , Linen provided , Bath towels provided , Bedding provided , Cot/ Travel cot , Hair dryer , High chair , Iron / Ironing board , Washing machine , Tumble dryer , DVD player , CD player , TV , Satellite TV , Freeview / Freesat TV , iPod docking station , Free Wifi , BBQ , Shared garden , Boat mooring , Garden dining furniture , Personal meet & greet available , Pets not allowed
Parking notes Two allocated car parking spaces are provided per booking in the private courtyard to the rear of the building.
There is a 15 mph speed limit within estate grounds
Exterior Situated in the heart of Achnacarry estate in a scenic sheltered Glen the Apartments have a lawned area of garden to the front and a pretty courtyard to the rear of the building.The building retains its original whinstone facade with traditional large sash windows and the original bell tower with weathervane atop. There is ample car parking for up to two cars per apartment and a covered cycle rack area is provided for the serious, or not so serious, mountain biker ! A shared drying room is provided in a separate room in part of the courtyard complex and provides an area to hang up your outdoor clothes and boots, waders etc.
Picnic tables and bar-b-ques are available free of charge. An outdoor smoking area is provided with ashtrays as strictly no smoking within the apartment.
NB Mobile phone reception is poor/non existent in the immediate area, signal becomes available in general towards Spean Bridge. There is a public payphone on the estate that accepts all payment cards. Wi-fi is perfect for keeping in touch/browsing - not suitable for large downloads etc.
Interior layout Ptarmigan has a large bright and airy open plan living/kitchen/dining area with traditional sash windows overlooking the estate countryside. There is a modern bar stool breakfast bar dining arrangement in this apartment. The three bedrooms, with the master bedroom en-suite and family bathroom with shower above the bath lead off from the main hall
Local area Achnacarry Steading Apartments are situated on an isthmus between Loch Lochy and Loch Arkaig. The local landscape is full of natural beauty and has been a popular location for filming both for the film screen and TV. From 1942 to 1945 the grounds were handed over to the British Military and were home to over 25000 commandos who underwent rigorous training here. Achnacarry became known as 'Castle Commando' and today many commandos and their families come back to visit the area and remember their forebears who trained here.The Achnacarry Museum is situated in the grounds and is well worth a visit.
Aonach Mor is a few miles away and offers winter snowsports and summer mountain biking and walks. You can take a gondola ride to the top of the mountain and enjoy a meal in the Pinemarten restaurant.
Achnacarry Country Pursuits operate from the Estate and offer a wide variety of activities for individiuals and families from fishing, to argocat wildlife tours and stalking ( in season)
You may want to tackle the footpath to the top of the Ben ( Nevis) at Fort William or hire a mountain bike to ride along the Caledonian canal tow paths -the possibilities in this area are endless. Please visit our links area
---
Overall rating
Based on 3 review(s)
Location

Cleanliness

Price/Value
Yet another smashing visit, comfy beds and very clean throughout. Will see you all soon for another week of peace and solitude.
Also a big thank you to Astie for his time and help.
Property manager response (20 Sep 2017)
Great to welcome you all back to Achnacarry again. Always happy to help. Thanks Astie
Location

Cleanliness

Price/Value
Wonderful location and beautiful apartment, well equipped with all the essentials. Couple of things - more constructive criticism than complaint - please oil the door handles! (Rather squeaky at 11pm especially with a sleeping baby!!). And would suggest midge nets/blinds for this ground floor apartment as rather stuffy in the evenings but obviously opening the windows was a no-go! Otherwise, a very pleasant stay - would 100% recommend! Many thanks!
Location

Cleanliness

Price/Value
The apartment has been kitted out with a great deal of thought and attention to detail. Everything we needed was there, the beds were very comfy and the bedding lovely and cosy. We were very well looked after by Lorna and her husband.
The setting is perfect, Achnacarry , is a beautiful spot and the stags and pheasants wander around the Steadings Apartments....we had a number of beautiful walks around the estate.
All in all we had a great time and have booked to go back to Ptarmigan again in May this year!
Property manager response (25 Apr 2013)
Thank you so much for your feedback and we look forward to seeing you all again in May !
Guestbook reviews
All the goodies, ie: toiletries, teas , coffees, chocs etc were fabulous. Good informative brochures. Enjoyed our stay.
- 04 Feb 2017
Ptarmigan
https://cdn.tribalogic.net/uploads/5d/325229.jpg
Fort William, PH34 4EJ, United Kingdom
Anonymous guest
On behalf of all the HLP mountaineering club in all your apartments-Thanks for a fantastic time, one of the best places we've stayed. A fantastic time was had by all!
- 02 Jan 2017
Ptarmigan
https://cdn.tribalogic.net/uploads/5d/325229.jpg
Fort William, PH34 4EJ, United Kingdom
Anonymous guest
Another wonderful weekend in your apartments. The weather was kind to us as always and will be back in 2017.
- 09 Sep 2016
Ptarmigan
https://cdn.tribalogic.net/uploads/5d/325229.jpg
Fort William, PH34 4EJ, United Kingdom
Anonymous guest
From Dolomites to Ben Nevis!! Location & accommodation are simply awesome!!! The little hill in front our house (Monte Avena) is higher than your highest UK mountain, but this place is amazing.
- 03 Jul 2016
Ptarmigan
https://cdn.tribalogic.net/uploads/5d/325229.jpg
Fort William, PH34 4EJ, United Kingdom
Anonymous guest
Beautiful location in a very quiet and scenic part of Scotland.
- 21 May 2016
Ptarmigan
https://cdn.tribalogic.net/uploads/5d/325229.jpg
Fort William, PH34 4EJ, United Kingdom
Anonymous guest
Stunning location- a WOWO around every corner. So much history to enjoy too. Would love to return as still so much to see.
- 21 May 2016
Ptarmigan
https://cdn.tribalogic.net/uploads/5d/325229.jpg
Fort William, PH34 4EJ, United Kingdom
Anonymous guest
Our stay at ptarmigan has surpassed all our expectations and a wonderful welcome. we shall be back again.
- 16 Jun 2015
Ptarmigan
https://cdn.tribalogic.net/uploads/5d/325229.jpg
Fort William, PH34 4EJ, United Kingdom
Anonymous guest
Wonderful time staying here and liking Ben Nevis & Quirang. Absolutely 100% beautiful.
Ashley & Matthew. Chicago USA
- 10 Jun 2014
Ptarmigan
https://cdn.tribalogic.net/uploads/5d/325229.jpg
Fort William, PH34 4EJ, United Kingdom
Anonymous guest
Had an enjoyable holiday. Flat excellent ( very comfortable. Annette B. Lanark
- 24 May 2014
Ptarmigan
https://cdn.tribalogic.net/uploads/5d/325229.jpg
Fort William, PH34 4EJ, United Kingdom
Anonymous guest
Lovely place. Beautiful peaceful & relaxing. Very comfortable. Campbell & Ronnie. Australia
- 24 May 2014
Ptarmigan
https://cdn.tribalogic.net/uploads/5d/325229.jpg
Fort William, PH34 4EJ, United Kingdom
Anonymous guest
Perfect self catering accommodation in a beautiful landscape. We had a perfect Scottish Holiday ( including the rain !)
Michel, N. Germany
- 10 May 2014
Ptarmigan
https://cdn.tribalogic.net/uploads/5d/325229.jpg
Fort William, PH34 4EJ, United Kingdom
Anonymous guest